When a family member struggles with active addiction, he or she usually under-functions and behaves irresponsibly. This, too, sha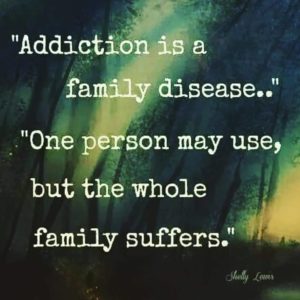 pes the behavior of other family members. They typically respond by becoming more controlling and overly responsible. Whenever a family member struggles with any serious ongoing condition, everyone in the family is significantly affected. The equilibrium or balance of the family system shifts as each member changes and adjusts accordingly. These changes usually occur incrementally, subtly, and unconsciously.
The havoc active addiction creates in families and relationships stresses everyone in these "systems"—parents, children, siblings, spouses, partners, close friends, etc. Active addiction destabilizes the home environment, disrupts family life and muddling relationships, and often compromises finances, as well as mental, emotional, and physical health. Without assistance and unless family members and significant others learn and practice how to do things differently, these effects can be chronic and long-term.
https://www.julaaniol.com/wp-content/uploads/2018/05/julaaniol.png
0
0
Jula
https://www.julaaniol.com/wp-content/uploads/2018/05/julaaniol.png
Jula
2018-08-29 07:20:47
2018-08-29 07:20:53
Addiction is a family disease